News
SC Campus Workers represent UCW Local 3765 at CWA, SC AFL-CIO Conventions

South Carolina campus workers represented their union at major national and state labor conventions this summer. Members of South Carolina's growing United Campus Workers union - made up of staff, faculty, and student workers - participated in the historic 79th Convention of the Communication Workers of America (CWA) and the 66th Convention of the South Carolina Federation of Labor (SC AFL-CIO).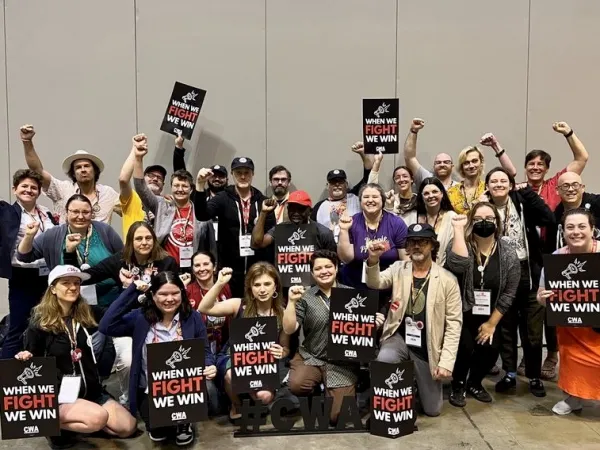 UCW SC President Jaimee Wishon joins dozens of other campus workers united at the 79th CWA Convention in St. Louis, MO. 

Delegates elected Claude Cummings Jr. as CWA President. Hailing from the U.S. South, Cummings recognizes the connection between labor and civil rights, and emphasizes the importance of strengthening ties between workers organizations and Black and community organizations like the NAACP, of which he is a member. Cummings is the first Black man to serve as President of the CWA. Ameenah Salaam was also elected as the CWA's secretary-treasurer, the first Black woman to serve in that position.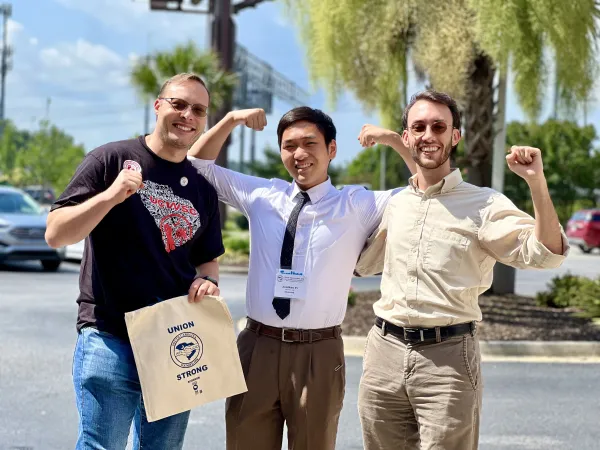 UCW SC members Will Matchin and Jonathan Yi represent UCW-CWA Local 3765 at the 66th SC AFL-CIO Constitutional Convention in Columbia, SC. 

In the heart of South Carolina, just miles from the campus of the University of South Carolina, delegates from several industries worked to forge a 10-year plan to unite labor and community, to fight and win in the interests of working people in the state.


Do you work at a public university or college in South Carolina? Are you ready to win living wages, dignity, and respect on the job? Join your union today!
USC Workers build campaign for living wages, wear t-shirts to show support
USC Campus Workers Need a Living Wage - Now They Have a Plan to Win
SC Campus Workers represent UCW Local 3765 at CWA, SC AFL-CIO Conventions